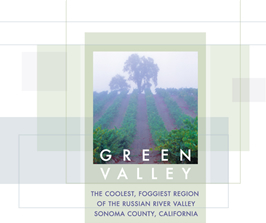 HISTORY
Grape growing in Green Valley goes back to 1836, two years before George Yount, who is credited with starting grape growing in Napa, planted vines in what is now Yountville. However, after such a strong start, grape growing in Green Valley, along with most of the wine regions in the world, went through a long fallow period because of Phyloxera and sheer economics—almost every other fruit was more profitable.
The Duttons, the most famous farming family in the area, was the first to replant grapes in Green Valley in the 1970s. Even as late as 1976, when Audrey and Barry Sterling bought Iron Horse, agents from the UC Davis Agricultural Extension advised against investing here on the grounds that it was too cold and prone to frost, and that Napa was a safer bet.
Green Valley became a federally recognized AVA in 1983. In 2008, the TTB approved a name change and the official name is now Green Valley of Russian River Valley. It is today renowned for producing exceptional cool climate wines.