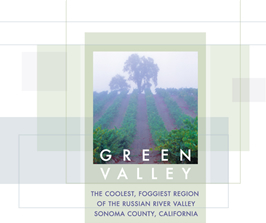 FLAVOR PROFILE
Comparative tastings show a remarkable thread of continuity in Green Valley Chardonnays and Pinot Noirs. Asked to provide a short description of the Green Valley flavor profile, tasters offer the following:
Chardonnay: Fresh, clean, crisp, crystalline focus, beautifully integrated, restrained, Gravenstein apple, complex citrus (a hint of lime, tangerine), spice (cinnamon, nutmeg), core of minerality, long finish, great food wines, age-worthy.
Pinot Noir: Bright fruit (cherry and cranberry); great clarity of fruit; sweet spice character (allspice, cinnamon, clove); distinguishing underlying, rich earthiness (red clay); tea and floral notes; complex; nuanced; lively acidity; subtle oak; soft tannins; supple texture; long palate evolution; beautiful structure; definite sense of class.
Source: Robert Bath
Master Sommelier


[email protected]